18th May 2021
Avenue Road Estate Documentary Film presents Moving Stories
E17 Films announces the Avenue Road Estate Documentary Film project "Moving Stories" to take place over Summer 2021.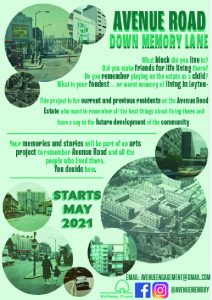 Working with the residents of The Avenue Road Estate in Leytonstone E11, this project aims to involve the community of the housing estate in a range of workshops and filming sessions. 
The final film will capture the essence of the community in a series of archive photos, stories and memories, in a time when the tenants are about to see great changes on a regeneration project based at the estate.   Located adjacent to Langthorne Park, the documentary film project is to be screened in September 2021 as part of Leytonstone Loves Film, the Barbican curated film festival now in its third year of community screenings in the area.
"The Avenue Road Estate has had few creative projects in the past and I am thrilled that the residents can now engage in this exciting film project to capture the history of the planned regeneration" says Cllr Jonathan O Dea, councillor for the Cathall Ward and a keen supporter of the film project from the start.  
With funding from the London Borough of Waltham Forest, the project aims to capture the voices and opinions of residents through this stage of the regeneration process.  
"The other part of the vision" adds Liza Fletcher, Community Engagement Manager from E17 Films, "is to give the community a flavour of what it is like to work on a creative project and give some informal work experience and training to young people on the estate who may then go on to further study, training or employment in the creative industries."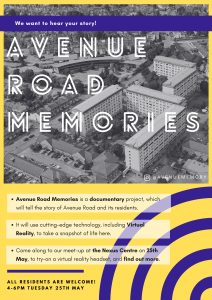 With seed funding from University College London, Liza Fletcher will also work with students from the MA in Immersive Storytelling and Ethnographic Film Unit to add a Virtual Reality strand to the project and giving the residents a taste of using 3D film technology to add to the photos, film and archive. 

For the younger residents, E17 Films will work alongside animator Esther Neslen in schools project in Leytonstone to learn basic animation skills and giving younger residents a chance to talk about their hopes and ideas that they would like to see in the future.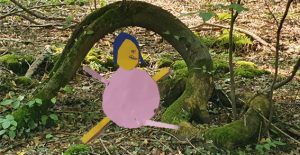 "Just because the London Borough of Waltham Forest skyline is changing" sums up Liza Fletcher "it doesn't mean that the strong community spirit and links that the neighbours have forged over the years has to alter".  The neighbours are in support of the rebuilding of the Estate which they see as tired and needing improvements.
"I hope that this is the beginning of a long film documentary which will capture the lives of the people now and as they anticipate the future of their home. I see this as the beginning of a long beautiful film relationship."
Contact us: Email avenueengagement@gmail.com or on Instagram @Avenuememory