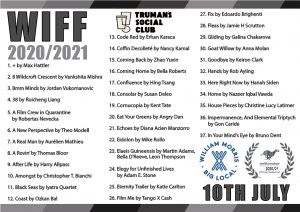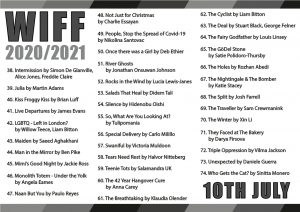 The Walthamstow International Film Festival announces its 2020-2021 programme of short films to be screened on Saturday 10th July 2021 from 11.00am to 6pm at The Truman Social Club (1 Priestley Way, London E17 6AL).
With over 70 films from Walthamstow and from international entrants, the festival returns after the postponement of its 2020 event to a new home in the recently opened Truman Social Club at the heart of the Blackhorse Road creative hub.
This year, the programme of Animation, Documentary, Drama, Experimental and U18 short films of 5 minutes and under show a huge range in the filmmakers and in the way that creatives have risen to the challenge of producing festival standard work under lockdown restrictions; a theme which is expressed through shooting choices (using smartphones or technology to hand) and in the content.
"We're so impressed with the way that filmmakers have managed to produce outstanding work"
says Paul Fletcher, Founder/Director of the entry level festival,  which has been running since 2010.  "We're also thrilled to be in our new screening home at Truman Social Club, where we are able to show festival regulars and new and emerging talent."
There will be a break at 15.30 to show a feature length documentary by artist Nancy Willis.  This will be followed by a Q&A chaired by Walthamstow literary legend, "Other Teresa".
Book here: https://thedaringyounggirlontheflyingtrapeze.splashthat.com/
Says Liza Fletcher, Co-founder and Director, "We may not be able to invite our international entrants from Iran, North America, Japan, South Africa and Australia this year, but our festival volunteers will ensure that we interview film fans, filmmakers and audience members on our @e17filmfestival account on Instagram and other social channels.
FREE Registration Eventbrite Link: https://wiff2021_truman_100721.eventbrite.co.uk
Walthamstow International Film Festival Previous Winners